Microsoft Power Platform is counted to be a group of products that are launched by Microsoft for building special business operations, automating selected business processes, analyzing & drawing business data, and much more.
All the products within Microsoft Power Platform consist of a simple GUI and are suitable for almost all types of businesses and developers. With the inclusion of Microsoft skills embedded with the Power Platform, the need for IT assistance can be suppressed or reduced within an organization.
In this article, you will get to know about some of the reasons and supporting information about why Microsoft Power Platform is an important skill to achieve in the year 2021.
Microsoft Power Platform And The Products Listed Under It
Microsoft Power Platform skills provide more energy to the people working within an organization to help it grow and thrive. The companies now understand the potential of using data for driving business solutions. Cloud services are being used for storing and using more data from various sources to help business organizations grow.
But, the major concern for most of the companies in the present era is to make the data work seamlessly and efficiently after the infrastructure is built. The businesses are in need of a platform or support system that would help the team work efficiently with the use of data for driving the positive business impact.
Give your career a promising boost with Microsoft Power Platform Certifications, Check out our courses today.
Power Platform skill by Microsoft enables the users to implement three major actions to drive business impact. The three significant actions implemented by Microsoft Power Skill are analyze, act and automate. With this integration and use of Power Platform products, the entire team within an organization can drive business growth with the proper usage of data.
Before moving forward with the explanation, here are the products within Microsoft Power Platform that help users to interact with data in different ways: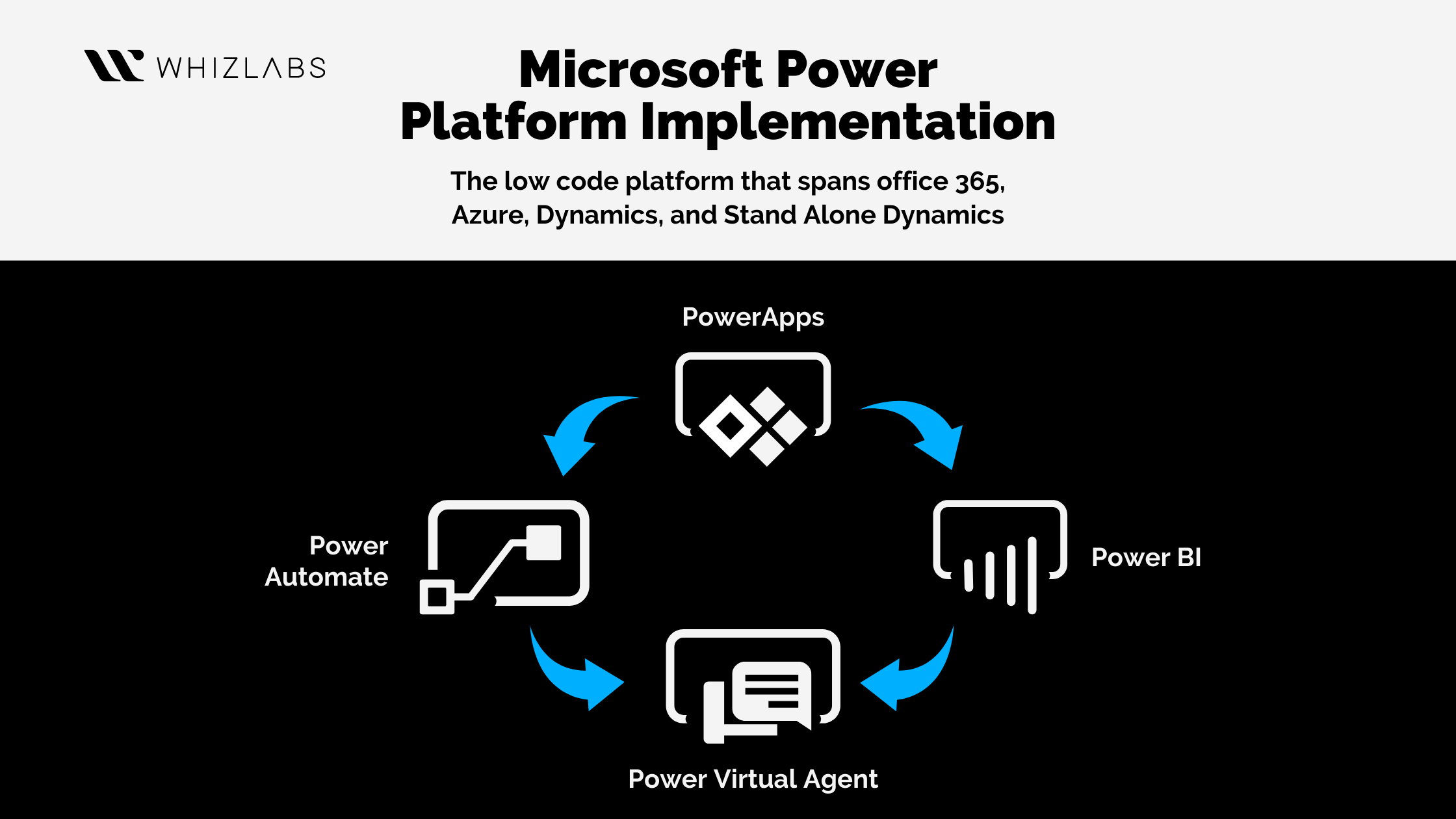 Power BI-

This product is used for analyzing the data from diverse sources for your business growth. It is basically a self-service analytics tool for businesses and is an integral part of the entire power platform bundle. 

Power Apps-

 This product is used for building mobile apps that are extremely powerful and are implemented for internal organizational operations. It comes with a "drag & drop" feature for users to develop an intuitive interface for building a mobile application. 

Power Automate-

 This product is used for automating the workflows within business operations to reduce the necessity of manual operations. Moreover, this product was formerly named Microsoft Flow that needs no coding efforts for automating the business workflows.

Power Virtual Agents- 

This product under Microsoft Power Platform is used for developing chatbots that are flexible within the operations for communicating with external customers. There is no such necessity as writing any codes for developing a virtual business-chat agent for your business with this product.
Check out Whizlabs Free Test and Practice Tests of Microsoft Power Platform Fundamentals (PL-900) Certification!
Microsoft Power Platform has been leveraged so far to improve the business impact by implementing data, developing relevant apps, automating the workflows, and developing chatbots. But, the complete impact and significance of this Microsoft skill set are not yet discovered or implemented.
Reasons Why Adapting Microsoft Power Platform Skill is Must in 2021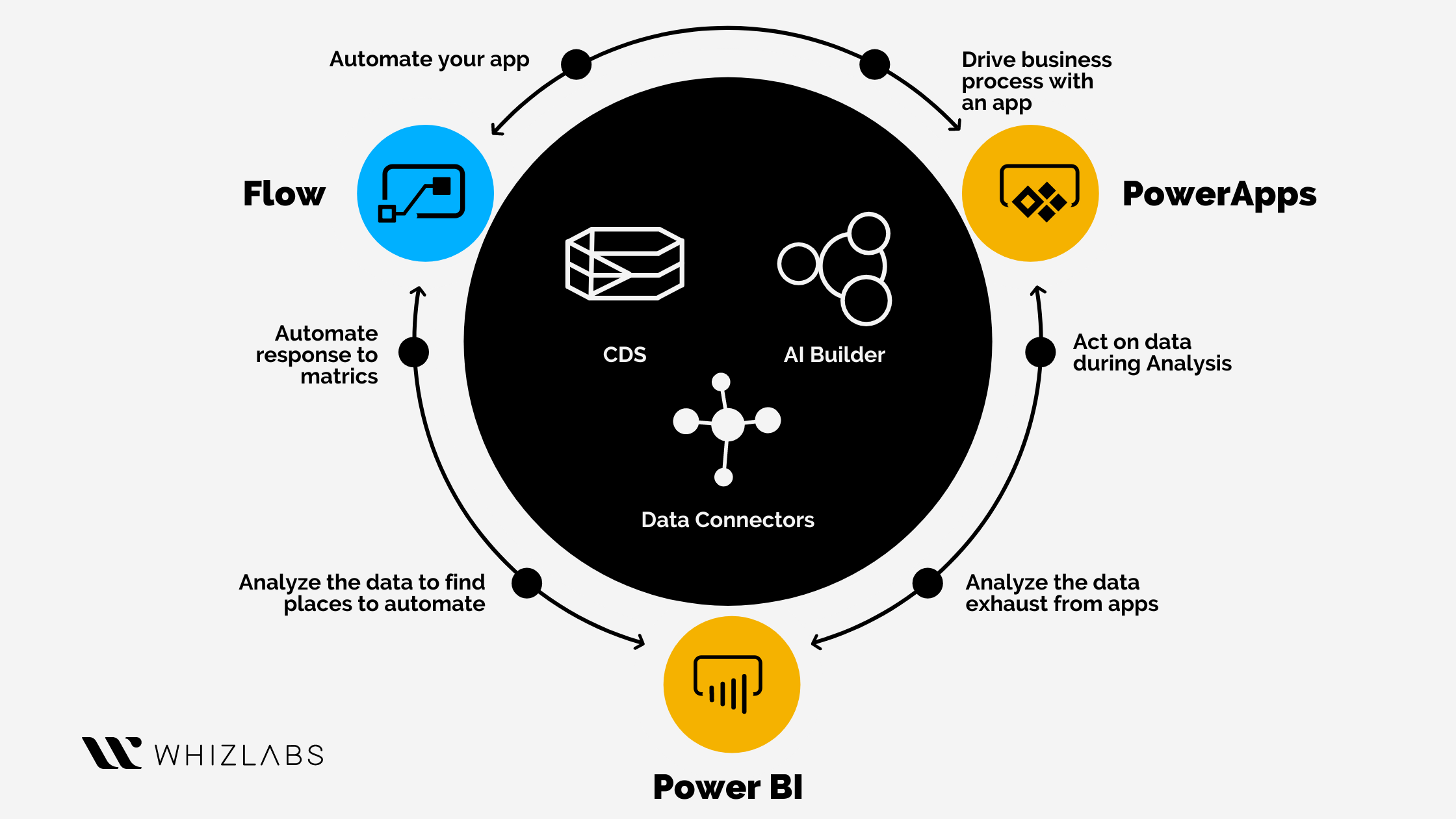 With the rise of entrepreneurs in the present era, the need for optimized business solutions is increasing every day. Microsoft Power Platform brings to you some of the important skills in the form of certain products for helping your business thrive.
Hence, this section is to put more light on why the Microsoft Power Platform is essential for any organization in the year 2021. The reasons that support this verdict are:
1. Single Platform Can Handle All Business Processes
The importance of data is undeniable in the year 2021. This year is a digital age, and your business needs to implement strategies to make use of available data and reports for further productivity planning. At times you will need to manage a complete data warehouse or leverage a tabular data model for adapting the right business solutions.
Check out Whizlabs Free Test and Practice Tests of Analyzing Data with Microsoft Power BI (DA-100) Certification today!
It is important for an organization to infuse potential within the company for a data-driven productivity approach. Microsoft Power Platform helps the organizations put up a cyclic approach for analyzing the data, automating the workflows, acting upon the essential functionalities, and iterating them.
Microsoft Power Platform skills act as a helpful remedy to assist organizations in dealing with the most complex problems associated with driving business growth. It provides the organization a dedicated platform to empower the operations within a single tool without wandering the processes within different tools.
2. Easy To Adopt And Use
The best thing about Microsoft Power Platform is meant to suppress the need for IT assistance and departments for conducting business applications. When you are leaning upon your IT department solely for carrying out the business operations, you invest a lot of money, time, and effort to keep your business on track.
Check out Whizlabs Free Test and Practice Tests of Microsoft Power Platform Functional Consultant (PL-200) Certification today!
But, with the introduction of Power Platform skills by Microsoft, the approach has been simplified with no code or less necessity of coding. These skills enhance the ability of the team to generate deep data-oriented insights and deploy the productive application for streamlining the business operations.
The best part is that it has a simple "drag & drop" feature for your organization team to leverage its features. It can help you leverage the potential of AI for creating bots, integrate automation to workflows, and create them as well. Creating & deploying applications is relatively easy without the need to involve your IT department.
3. Microsoft Skills Are Trustable By Its Name
Adapting a Microsoft skill or product has always proved to be effective for business enterprises. With the introduction of the Power Platform, the organizations learned to adopt Power BI, PowerApps, Power Virtual Agents, and Power Automate to analyze, develop, act, automate and iterate. With it, you can expect to develop rich capabilities within your organization for working seamlessly within the ecosystem of Microsoft.
Check out Whizlabs Online Course of Microsoft Power BI Masterclass!
With the successful adaptation of the Power Platform, you can expect to simplify certain business tasks and processes. As a result, you can expect faster execution of business operations. So, put an end to the use of third party tools and products for carrying out the business operations that Power Platform can do all alone. If you possess the license, it is time to use it!
Final Verdict
This article was a complete summary of explanations and reasons that justify the necessity of the Microsoft Power Platform for businesses and organizational teams in 2021. With the rise of entrepreneurs in high numbers, the competition is increasing gradually.
Therefore, with the streamlined operational efficiency in the form of a bundle that replaces IT efforts, you can focus on core business processes. In the meanwhile, Microsoft Power Platform skills adapted by your team will take care of the necessary running operations of your business.
So, if you are planning to start a business with a huge IT team who will work to help you analyze the data and develop a mobile application for running business operations, stop right there. Instead, leverage the potential of Microsoft Power Platform and adapt the skills and technology for a convenient approach.
FAQs
1. How to buy Microsoft Power Platform?
Each of the products within Microsoft Power Platform is sold separately even though they are considered to be used as a bundle. They have different licensing structures that you need to understand before buying them.
2. Is it possible to share the app built over PowerApps with external users?
Yes, it is possible for you to share the apps built over PowerApps with external users by using the PowerApps portals. The pricing is different in terms of authenticated & unauthenticated users.
3. How to get the portal subscription?
PowerApps portals can be subscribed alone without the need to buy all the other products within the bundle. There is no necessity of acquiring a license for provisioning a portal.