Getting the Microsoft Power Platform certification is a career boost for beginners in business, technical, or academic careers. It can help the individuals boost their skills with the implementation of Power Platform to enhance team productivity in terms of business operations. You do not need to possess any special qualification or experience to seek this certification.
The only thing that Microsoft demands from you is basic knowledge of how to use computer technology, the basic idea of cloud computing, data analytics, and the usability of the internet. With this fundamental Certification for Microsoft Power Platform, you can eventually expect to take the first step towards enhancing the skills that will help you run your business operations seamlessly in the future.
Read more on Why Microsoft Power Platform is a Must Skill in 2021?
In this article, you will get a brief idea of how you can get Certification for Microsoft Power Platform. But, before that, you need to know other associated attributes of it.
Who Should Take the Microsoft Power Platform Certification?
Before you can go ahead and check out the process of acquiring this certification, it is essential for you to know if it will benefit you. The Microsoft Power Platform Fundamentals certification is supposedly a perfect career boost for you if you intend to pursue:
Building of solutions directed by the Power Platform.

Automation of selected and standard business processes in collaboration with Power Automate. 

Data Analysis, executed with the use of Power BI.

Develop Power Apps to streamline the operational workflow.

Develop chatbots and virtual agents to look after integrated solutions.
These are just a few of the use cases that one can implement with the knowledge and expertise of the Microsoft Power Platform. If any of this interests you to streamline your business or work operations, then this certification for Microsoft Power Platform is a perfect fit for you.
Give your career a promising boost with Microsoft Power Platform Certifications. Check out Whizlabs courses today!
About Microsoft Power Platform Certification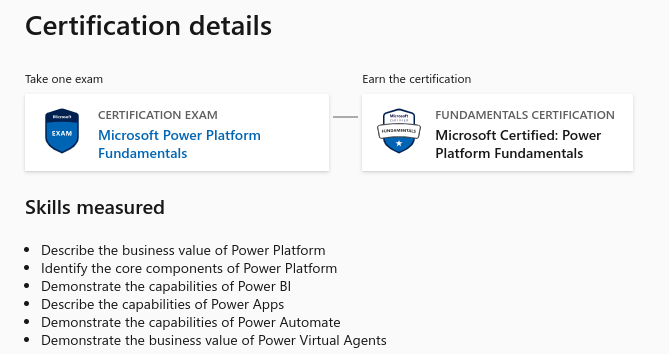 Microsoft Power Platform certification is a single exam that is termed to be PL-900. Microsoft has taken the initiative to replace and optimize its certification exams at a faster pace than it was in the past. The cloud is an ever-changing technology and is gaining high demand in the present decade. The content of the exam is now updated as of March 10. 2021.
Click here to Download MICROSOFT CERTIFIED: POWER PLATFORM FUNDAMENTALS SKILLS OUTLINE by Microsoft
There is a possible discount for the students who are willing to take this certification exam by Microsoft. The Power Platform licensing and pricing for this certification is US $99, and only students who can verify their academic history or status while registering for the exam will be eligible for receiving the discount.
As stated by Microsoft, there are no perquisites or demands for experience to appear in this certification exam. As per collective advice, if you have any experience or knowledge beforehand, your skills would multiply exponentially to help you reach a point of success. If you want to use this certification productively for your career hike, then gain immense experience, and give enough time to get all available knowledge related to the Power Platform.
Check out Whizlabs Free Test and Practice Tests of Microsoft Power Platform Fundamentals (PL-900) Certification!
There are several other certifications associated with Microsoft Power Platform as well, such as Power Platform Functional Consultant Associate, Power Platform Developer Associated, Power Platform App Maker Associate, and others. But, before you can go ahead with those certifications, you need to get the Microsoft Power Platform Fundamentals certification cleared for better knowledge and expertise.
Educating Aspects Of The Microsoft Power Platform Certification
The certification has some core attributes that will help you educate on different aspects within Power Platform. To help you get a brief ideology on what skills you would acquire, here is the list of things that this certification would educate you about:
It will describe the entire business value associated with the Microsoft Power Platform

Analyze, identify and implement core components within Power Platform

It educates about the capabilities and potential of Power BI

Explains the practical and theoretical capabilities of Power Apps

Educates the potential of Power Automate for streamlining the business operations

Explains the importance and usage of Power Virtual Agents
Each of these skills that you would acquire within this certification has several sub-knowledge sections that you would find in the exam skills outline of Microsoft Power Platform Certification PL-900 over the official website.
How To Get The Certification?
Before moving onto the steps to get this certification, it is important to go through the preparatory options for this certification. Microsoft has highlighted two ways to help you prepare for this certification exam that includes:
Online & Free Learning Path for Microsoft Power Platform Fundamentals

Instructor-Led Paid preparation for Microsoft Power Platform Fundamentals certification
Read more on What is Power Apps?
Online & Free Preparatory Module
It is a module-wise learning course that is free over Microsoft. It consists of 12 modules and demands you to give your 8 hrs. and 50 minutes of time for mastering it. Under this, you will know the business value and the capabilities of selected services within Power Platform.
Read more on What is Power Automate?
This module will teach you how to create simple apps with Power Apps, build Power BI for insightful reports, use Power Automate, develop chatbots, and much more. There are no requirements specified as of now for taking this preparatory course. Therefore, hop on and gather the available information from this resource to prepare for the fundamentals certification by Microsoft.
The modules breakdown for this preparatory content is as follows:
Introduction to Power Platform

Introduction to Dataverse

Introduction to Power Apps

Building Canvas App

Building Model-Driven App

Introduction to Power Apps Portals

Introduction to Power Automate

Building of an automated solution

Introduction to Power BI

Building a Dashboard

Introduction to Power Virtual Agents

Building a chatbot
Instructor-Led Preparation
The second way using which you can prepare for the Microsoft Power Platform certification is with the help of professional instructions. You can look for one around your region who has proficient knowledge based on the attributes of Power Platform and can pass it onto you at a nominal fee.
Taking instructor-led preparation to get ready for the certification will be a better option as you can clear out your doubts in person. If you are a complete beginner to this concept, getting an instructor to guide you with the fundamentals of this certification for Microsoft Power Platform is a better option.
Steps to Get the Certification for Microsoft Power Platform
Finally, here are the steps that you need to follow to register for this certification of Microsoft Power Platform Fundamentals:
Log in to this link from the official site of 

Microsoft

. It will redirect you to the Microsoft PL-900 Exam scheduling page.

There are three categories within this page for you to select one from the options. The options are for non-students, students or instructors, and job seekers. There are different scheduling options dedicated for individuals who fall under select categories. Click on the one that seems relevant to your criteria.

You will have to create a Microsoft account to proceed further. If you already have, then enter the credentials and log in to the account. If not, then create one right on the redirected page.

Proceed with the registration by entering the asked details in the required fields. Following that, you can schedule your examination date.

Prepare for the certification exam with the above-mentioned methods, and you would be ready to appear for the exam on the selected date.
Final Words
With this, you are now well versed with what you have to do for getting yourself registered for Microsoft Power Platform fundamentals certification. There are several other certifications associated with Microsoft Power Platform as well, but first, you need to acquire the fundamentals. Following which, you can get all the other associated certification for Microsoft Power Platform to strengthen your skill sets.
Read more on What is Power BI?
So, if you're aspiring to achieve the Microsoft Power Platform, you need to follow the right steps for your preparation and try out Microsoft Power Platform PL-900 practice tests. The practice tests will help you prepare for the actual exam and you will be confident enough to pass the exam on the first attempt.
FAQs
1. Is it necessary to take Fundamentals certification to apply for other Power Platform certifications?
Yes, there are certain perquisites for other associated Power Platform certifications that include the Fundamentals certification on priority as well.
2. How can a student avail discount in registration fees for this certification?
A student needs to prove his/her academic status with the help of a student identity card, institute email account, or other to avail of the discount.
3. Is the Fundamentals Certification enough to build proficient solutions with Power Platform?
Even though you have prior experience in implementing Power Platform, you must still get all the Power Platform certifications to be accountable as a Microsoft Certified Power Platform individual.