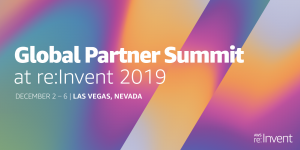 We are thrilled to be in Las Vegas this week for AWS re:Invent 2019 and our annual Global Partner Summit, meeting and connecting with APN Partners from around the world.
This year's conference provides AWS Partner Network (APN) Partners with great opportunities to connect, collaborate, and discover.
APN Partners will be busy all week attending breakout sessions, chalk talks, and hands-on trainings to learn how the APN program can help their business build, market, and sell their AWS-based offerings.
Keep checking this post for daily updates from re:Invent and our Global Partner Summit!
Daily Update for Monday, Dec. 2
AWS re:Invent 2019 is here, and it was an action-packed first full day with AWS Certification exams, hands-on labs, bootcamps, breakout sessions, and more.
This year, Global Partner Summit sessions are taking place throughout the week across the entire re:Invent campus. Wednesday morning's Global Partner Summit keynote will be held at The Venetian, while breakout sessions are at the Aria, Bellagio, MGM, Mirage, and Venetian.
Check out the full agenda of GPS sessions if you're still trying to build your schedule. Some GPS sessions have capacity, but be sure to arrive early!
Top Things That Happened Today
APN Partner Booth: The APN booth opened today in the Sands Expo and is a great place for APN Partners to connect with AWS experts and APN staff. We are excited to discuss how you can differentiate your business through the APN program, integrate solutions with AWS, leverage APN co-marketing opportunities, and more.


.


The APN booth is located at the Sands Expo (booth #4407). We'll be here all week, so stop by after nearby re:Invent sessions or Wednesday's Global Partner Summit keynote to learn more about the APN in 2020. Or just to collect cool APN swag!
Public Sector Partner Award Winners: More than 100 innovative leaders from 60+ APN Partners came together Monday to collaborate, learn, and recognize contributions to the public sector.


.


This year, we introduced the AWS Public Sector Competency and Region Awards. The winners were selected based on their success within their AWS Competency, demonstration of Amazon Leadership Principles, engagement and success with the APN, and delivery of results in a customer obsessed way.


.


Read more about our Public Sector Partner award winners >>


.

APN Partner Bootcamps: Led by AWS Solutions Architects, bootcamps are an opportunity to hone existing skills and learn new ways of working with AWS. We hosted several exclusive bootcamps today for APN Partners, diving deep on containers, machine learning, VMware Cloud on AWS, and more.


.


Need more training after re:Invent wraps up? We have a full set of APN Partner Training offerings!
Don't Miss These Events on Tuesday
Andy Jassy Keynote
Amazon Web Services CEO Andy Jassy's keynote highlights Tuesday's busy slate of events. Andy will share his insight and the latest news about AWS customers, products, and services.
New this year is reserved seating for all of the re:Invent keynotes. APN Partners and AWS customers can log in to their re:Invent account and reserve a seat. You must do so in advance; walk-ups will not be admitted into the keynotes.
If you're not in Las Vegas for the event, be sure and sign up for re:Invent keynote livestreams.
GPS Sessions to Attend
Check out great sessions like these at Global Partner Summit on Tuesday:
Check out all the Global Partner Summit breakout sessions >>
APN Partner Promotion at re:Invent
There are more than 380 Sponsorship Partners at re:Invent this week, including 150+ AWS Competency Partners, 30+ AWS Service Delivery Partners, and 20+ AWS Managed Service Provider (MSP) Partners. A very special thank you to these Sponsorship Partners!
The #reInvent Expo is in full swing with @AWS_Partners educating customers about what's possible on the AWS Cloud! pic.twitter.com/8yzd3J39y0

— AWS Partner Network (@AWS_Partners) December 3, 2019
Digital signage across the re:Invent campus and within the various sessions is displaying APN Partner sponsor logos, as well as APN program messaging that promotes the expertise and unique offerings of specialized APN Partners.
Additionally, AWS Competency Sponsorship Partners received unique booth badging in the Expo to help showcase their business to AWS customers on the show floor.
AWS Certifications
If your organization needs additional certifications to qualify for the next APN tier, or your staff wants to take the next step on their AWS Cloud journey, we are offering on-site AWS Certification exams at re:Invent.
The AWS Certification Exam Testing Center is open throughout the week, and APN Partners can register in advance for one or more exams. Registrants will receive special benefits at the event, such as access to the AWS Certification Lounges and Appreciation Reception.
Earning an AWS Certification helps you demonstrate your deep technical skills and expertise to design, deploy, and operate applications and infrastructure on AWS.
Stay Connected
Follow AWS and the APN on social media for all the latest updates about re:Invent 2019:
from AWS Partner Network (APN) Blog: https://aws.amazon.com/blogs/apn/on-the-ground-daily-updates-from-aws-global-partner-summit-2019/